First Responder Certification
Our 10-week extra-curricular course is offered to UF students and Gainesville community members during the Fall, Spring, and Summer C semesters. Upon satisfactory completion of the course, our students earn a First Responder certification. We train our students to provide life-saving medical care such as basic airway support, patient transport, and an array of first aid interventions, and prepare them to communicate effectively with patients and other healthcare professions.
Our course also includes the American Heart Association's Basic Life Support (BLS) for Healthcare Providers certification covers CPR, AED use, bag-valve-mask technique and usage, rescue breathing, and relief of foreign objects. The cost of the certification and license is included in the course registration fee.
Many of our students go on to volunteer with emergency medical response programs, where they earn clinical hours towards professional school admissions. A first responder certification is also the first step towards becoming a certified emergency medical technician, and our students are well prepared for success in EMT programs.
Lectures will be held in person on Wednesday nights from 5:30-7:30 pm.
The required lab component of the course is offered on Tuesday or Thursday nights from 6-8 pm in person on UF's main campus.
All locations are TBD and will be released to you prior to the start of the course.
Click HERE to register for lecture + Tuesday lab
Click HERE to register for lecture + Thursday lab
Our First Responder course prepares students to provide pre-hospital assessment and care for patients of all ages with a variety of medical conditions and traumatic injuries. Topics include an introduction to Emergency Medical Services systems, roles and responsibilities of First Responders, anatomy and physiology, medical emergencies, trauma, and special considerations for working in the pre-hospital setting.
Here are a Few of the Skills You Will Learn:
1. Recognizing signs and symptoms of common medical illnesses
2. Maintaining airway stability with oral and nasal airway adjuncts
3. Stabilizing traumatic injuries with pre-hospital interventions
4. Performing primary and secondary patient assessments
5. Methods for immobilizing cervical spine and back boarding
6. Applying traction splints, tourniquets, and wound dressings
7. Taking vital signs and relaying information to other EMS professionals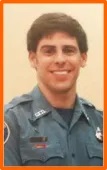 David Sutton is a Firefighter/Paramedic for Gainesville Fire Rescue with 9-years of field experience. Outside of the First Responder course, he works as both a front-line responder, a SWAT Medic, and an assistant professor for the Santa Fe College Paramedic program. As a University of Florida alumnus with a degree in Family, Youth, and Community Sciences, he is passionate about medical education and community outreach. For his outstanding work, Professor Sutton has been awarded both Firefighter of the year and EMS provider of the year from Gainesville Fire Rescue. He is currently collaborating with Captain Joseph Hillhouse to develop the first Community Resource Paramedic program in Gainesville, which will connect underutilized resources to local underserved populations. In his free time, David enjoys volunteering with the P.K. Yonge Robotics team and spending time with his wife, Stephanie, and his children, Xavier and Amelia.
None at all! All you need is an interest in learning about emergency medicine. If you do have prior certifications or experience, that is excellent! Our class is composed of students from all academic interests and experience levels, but there are no prerequisites whatsoever.
The First Responder certification is lifetime. The BLS for Healthcare Providers certification lasts for two years after completion.
No, you do not have to be a current UF student to take our First Responder course.
No, this is an extra-curricular course. Our organization operates independently from UF, so your performance in the course does not affect your GPA or excess hour surcharge in any way.
We expect our students to achieve proficiency, so several assessments are administered throughout the course. This includes ten online quizzes, a multiple-choice midterm, and a combined practical/multiple-choice final exam. Most students find that our assessments are straightforward.
We try to make the class as minimally time-consuming as possible, but we always recommend that students study outside of class and practice the skills we teach! The minimum time commitment is the 2-hour lecture and 2-hour lab. Most students find that they can easily balance our course along with full-time enrollment at UF.
No, we will teach BLS for Healthcare Providers CPR on your first lab day. Therefore, attendance on the first day is especially important and mandatory.
Although not required, we recommend the following textbook for the class: Emergency Medical Responder: Your First Response in Emergency Care | ISBN: 9781449693008 | Author: AAOS.
Yes, you must purchase a manual sphygmomanometer and a stethoscope for the class. We will be taking vital signs regularly, and these supplies are necessary for practice.
Any quality/brand/color will work as long as it is functional. A recommendation: if you are taking this course to dip your toes in the field of medicine, it may not be appropriate to buy a new Littmann Cardiology IV (an expensive stethoscope). However, if you know you are going to practice medicine, come hell or high water, this may be the time to invest in a quality stethoscope for the future.
The cost of the First Responder course is $70. This includes the cost of CPR certification and GFR ride-alongs.
Your First Responder and CPR certificates will build your resume and allow you to apply for jobs that require basic First Responder level training. Do you have a passion for teaching? If you excel in your class, we will invite you to become a Lab Teaching Assistant for future classes! The Gator Emergency Medical Response Unit (GEMRU) is always looking for more student volunteers. GEMRU, under the UF Division of Public Safety, is on medical standby at various events on campus. These events offer you direct patient contact hours that you can report on professional school applications. An EMR certification is also a prerequisite for many Emergency Medical Technician (EMT) schools and many of our students go to EMT school during the summer after completing our course.
First Responder Gator is an official student organization at UF. We are registered with Student Activities and Involvement. We guarantee that all of our members and students will receive exclusive opportunities unmatched by other groups on UF's campus. We are aware of other groups offering EMR courses in online and audio formats. However, we are not affiliated with them in any way. It is understood that there are currently no other registered student organizations at the University of Florida that offer EMR or First Responder classes, nor any which possess the professional affiliations that we do. If you are not registering at eventbrite.com, you are not enrolling with our organization. Unlike other EMR courses on campus, we provide in-person instruction for both lecture and lab*. Hands-on training is essential within the First Responder curriculum, and we pride ourselves in the great bedside mannerisms which our students perfect as a result. Additionally, students can master their material in less time since there are no required lectures outside of class time.
We offer you the unrivaled opportunity to train hands-on in a less time-consuming format, plain and simple. Choose which learning style works for you!
*In-person instruction may not be available during semesters impacted by the COVID-19 crisis due to safety concerns.